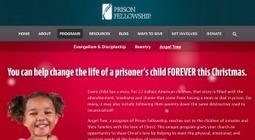 Angel Tree Prison Fellowship: They deliver a gift and the Gospel to an Angel Tree child to let prisoners' children know that Jesus loves them.
Cee Harmon's insight:
This Angel Tree Prison Fellowship ministry outreach program is helping to bring joy to children who are separated from their parents because they are in prison.  Sponsoring a small Christmas gift from their parents will make a huge difference in their lives.
See on elevatechristiannetwork.com
Featured Video
Angel Tree – Prison Fellowship SA
It starts with a gift. And the gift starts with you. Sponsor a child today.
Learn more about the Angel Tree Project:  http://www.prisonfellowship.org/programs/angel-tree/
Related articles