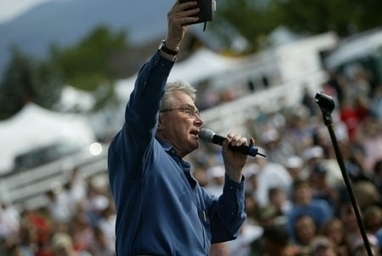 ChristianToday
Luis Palau mobilising next generation of evangelists.  The 150-plus participants of the Connect Conference will benefit from his years of experience in leading evangelistic festivals around the world.
Cee Harmon's insight:
Luis Palau will host a range of workshops will engage the evangelists in key areas like ministry development and collaboration.  In addition, he wiil be providing insights on how to balance family and marriage with career evangelism.
See on www.christiantoday.com
Related Links
Luis Palau via Flickr
http://www.wikipedia.org/wiki/Luis Palau
Luis Palau, Jr. (born November 27, 1934) is an international Christian evangelist living in the Portland area in Oregon , United States …
Luis Palau Festival in Venezuela Draws Thousands – World – CBN …
In Venezuela, the uncertain social and political climate may actually be helping the church to grow. Large crowds attended this month's evangelistic festival.
Luis Palau: Why It Matters that Pope Francis Drinks Mate wit …
http://www.christianitytoday.com

An interview with international evangelist (and native Argentine) on his friend, Jorge Bergoglio.
45000 Venezuelan Youths Attend Luis Palau Fest; Thousands Commit to Sexual … – Christian Post
45000 Venezuelan Youths Attend Luis Palau Fest; Thousands Commit to Sexual …Christian PostSome 45,000 people attended a youth festival hosted by evangelist Luis Palau in Venezuela last weekend, with thousands committing to sexual purity until marri …
Luis Palau message at Arizona CityFest, Sunday
Luis Palau's Gospel presentation at Arizona CityFest, March 20 2011.
*Elevate Christian Network