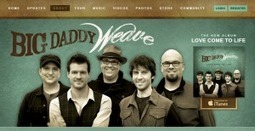 In this Christian music video, Big Daddy Weave performs their song called "Redeemed". They are a popular a contemporary Christian band from Mobile, Alabama. The band met while they were students at the University of Mobile.
See on elevatechristiannetwork.com
Related Links
TobyMac, Casting Crowns, Big Daddy Weave Win at K-LOVE Fan …
The Christian music industry's elite gathered at the Ryman Auditorium on Saturday evening (June 1) for the inaugural fan-voted K-LOVE Fan Awards. The Ryman Auditorium, which first opened as the Union Gospel …
BIG DADDY WEAVE RELEASES NEW SINGLE, "THE ONLY NAME …
Big Daddy Weave released their third single, "The Only Name," from their album Love Come to Life to radio today. The album's second single, "Redeemed," is the most successful track of their career spending 12 weeks at No.
Big Daddy Weave – Every Time I Breathe (Official Video)
2006 WMG, Big Daddy Weave – Every Time I Breathe Download The Ultimate Collection NOW! http://j.mp/qaASQf Website: http://www.bigdaddyweave.com
http://www.wikipedia.org/wiki/Every Time I Breathe
Every Time I Breathe is the fourth album by the Mobile, Alabama based CCM /Christian rock band Big Daddy Weave . It was released on …
*Elevate Christian Network