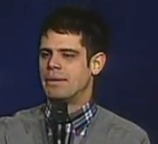 Pastor Steven Furtick believes that the Gospel message is the most important message in the world. He says it deserves the best presentation.
See on elevatechristiannetwork.com
Related Links
God always knows what's better for you than you could want for yourself, as Elevation Church Senior Pastor Steven Furtick says in a special message at NewSpr…
Elevation Church seeks Ballantyne expansion – WCNC
WCNCElevation Church seeks Ballantyne expansionWCNCChoate said she has attended the church's other location and has enjoyed its services, especially Pastor Steven Furtick's dynamic sermons. "Every time I hear him speak, it reaches me," she said. The …
Pastor Steven Furtick – Attaching Action to Your Aspiration
ABOUT THIS SERIES. As a church in 2010, we all read through the New Testament in 30 days. Yes it was hard, but you can do it too. You should do it, it'll be good for you.
Pastor Steven Furtick – Why Do We Want to Keep Our Garbage?
We all have 'our thing.' The thing that keeps us from experiencing the fullness of a life surrendered completely to Jesus. For some of us, it started as a good thing that over time we've allowed to become an idol in our lives.
Cee Harmon :: Elevate Christian Network: Pastor Steven Furtick …
Elevation Church pastor Steven Furtick says that churches are in essence selling the Gospel short when those outside the Christian community who are looking in see little difference in the lives of Christians, including …
*Elevate Christian Network